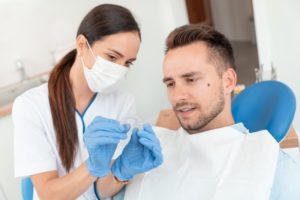 Since the beginning of the COVID-19 pandemic, everyone has tried to do as much as possible from the comfort and safety of home. In most cases, working, grocery shopping, and other tasks can be done remotely or online, but some things require seeing an expert in person. Likewise, as much fun as it can be to try DIY home projects or cooking from home, some things are best handled with the close attention of a professional.
At this point in your binge watching, you've probably seen the ads for clear aligners that come directly to you in the mail without having to visit a dental office. Marketed as a cheaper alternative to Invisalign, these mail-in aligners may seem attractive at first glance, but they can have serious negative consequences for your smile. Here are five solid reasons why working with an orthodontist to realign your teeth with Invisalign is still the smartest approach to take.
Proven Accuracy
Although they come with instructions, mail-in clear aligners require that you mix and take impressions of your teeth yourself, which leaves plenty of room for error. One false move could result in inaccurate impressions, leading to ill-fitting clear aligners or a treatment plan that doesn't match your smile. Turning to an orthodontic team with a digital scanner ensures that your mouth is accurately documented and you receive perfectly fitting aligners. Plus, the digital scanner is much more comfortable than putty impressions!
Less Frustration
Mail-in clear aligners promise all the same benefits of Invisalign with one obvious difference. After the initial treatment plan has been created, you get no contact with a licensed dental professional at all, much less an orthodontic specialist. At that point, you're on your own. If you have questions or problems, you're forced to deal with customer service representatives, not a highly trained expert, on the phone. Instead of spending hours being frustrated, when you choose Invisalign, you could simply call up your orthodontist and get straightforward assistance.
Easy Adjustments
One of the most attractive aspects of clear aligners is that they are barely visible in your mouth, but it can be just as easy to misplace or lose them while you eat. What happens if you lose an aligner or somehow get off track with your treatment? With mail-in clear aligners, there's no simple way to adjust your treatment plan. However, when you work with an orthodontic specialist, they can quickly order a replacement aligner or tweak your plan so you can continue to see that steady progress toward your dream smile.
Personal Touch
While many meetings can be done remotely, rearranging your teeth and changing your bite are better done in person. Without the proper monitoring, you could end up with a compromised bite, impaired function and aesthetics, and more wear on certain teeth. Interacting with your orthodontist in person allows them to catch issues as they arise.
Lifelong Retention
After you're finished with orthodontic care, you wear a retainer to prevent your teeth from regressing back to where they were before. To the layperson, all retainers are the same, but an orthodontist can provide the proper appliance so that you can keep enjoying your new, straight smile for many years to come.
Ultimately, your potential savings just aren't worth the risks when it comes to mail-in clear aligners. Your best bet is to visit with an orthodontist who can provide you with the customized and essential care you deserve.
About the Practice
Chicago Pediatric Dentistry & Orthodontics is honored to have two talented orthodontists on staff to treat patients of all ages, including adults. After Dr. Dale Benjamin graduated with his dental degree, he completed his orthodontic residency training at the University of Illinois at Chicago and has enjoyed building personal relationships with patients. In addition to the American Dental Association, Dr. Amy Seagraves is an active member of the American Association of Orthodontists, the Illinois Society of Orthodontists, and the Midwestern Society of Orthodontists. If you are interested in straightening your teeth with Invisalign, you can schedule an appointment with Dr. Dale or Dr. Amy through our website.