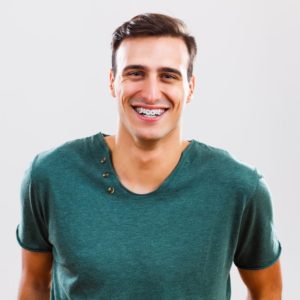 As you get ready in the morning, you look in the mirror at your misaligned smile for one last time. Today's the day you're finally going to get braces and fix the problem. You can't wait to see what your teeth will look like when you're finished!
You've looked forward to starting orthodontic treatment for a long time, but now that it's here you may find yourself feeling nervous about the unknown. What will braces be like? How will it feel to have the brackets and wires on your teeth? What can you expect? Read on to learn the answers to these questions and more!
Your First Day
When your braces are positioned onto your teeth, you'll need to keep your mouth open so your orthodontist can dry each tooth and glue the bracket on. Then they'll attach the wire to the brackets and put rubber bands around the brackets to keep the wire in place. Once this process is complete, your lips and cheeks may feel strange against the unfamiliar brackets and wires. While your braces certainly shouldn't poke or cut your soft tissues, you may notice some slight irritation in the days following this initial appointment as your mouth adjusts to the brackets.
Your First Week
During the week after getting your braces placed, specifically the first few days afterward, you'll likely experience some discomfort as your teeth start the process of shifting. While you shouldn't feel acute pain, you may feel sore from minor pressure that the braces are exerting onto your teeth. Don't worry! This should subside after a couple of days.
To reduce any discomfort you may have, you can do the following:
Take over-the-counter pain medication.
Swish warm salt water in your mouth.
Eat soft foods like mashed potatoes, eggs, oatmeal, etc.
Avoid acidic or sugary foods or drinks.
After Every Adjustment
Every few weeks, you'll return to your orthodontist's office for an adjustment. During this appointment, they'll reconfigure the wiring so that the braces can continue to guide your teeth to their ideal alignment. For a couple of days after this appointment, you may feel that same dull aching in your teeth. However, after a few appointments, you can become accustomed to this sensation and barely notice it after a while. It means your treatment is working!
Although it may take a little bit of time, you'll eventually get used to wearing braces, and before you know it, you may even forget they're there! You can stay positive and excited by keeping your goal in mind. The amazing results at the end of treatment are worth the wait and effort. With a little patience at the beginning, you work your way to a beautiful, straight smile!
About the Practice
At Chicago Pediatric Dentistry & Orthodontics, Dr. Dale Benjamin and Dr. Amy Seagraves are board-certified orthodontists who love changing lives for the better. Each with years of advanced training can treat patients of any age and help them overcome alignment issues. Are you ready to enjoy a healthy, straight smile? You can contact Chicago Pediatric Dentistry & Orthodontics for a consultation by clicking here or calling 312-766-0995.