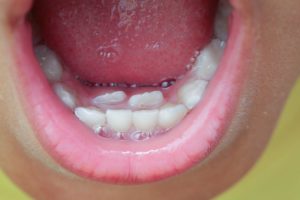 Did you know that a shark has thousands of teeth throughout its lifetime? In fact, sharks usually have five rows and up to 3,000 teeth at one time! In contrast, humans typically only have one row of teeth. So it's natural to feel very concerned if your child seems to be growing a second. Normally, children lose their primary or baby teeth, and then the permanent teeth erupt in the gap. However, sometimes "shark teeth" pop up before the baby teeth have come out. Does this mean something is wrong with your child's smile? What should you do about it? When should your pediatric dentist get involved? Read on to find out!
Why Does My Child Have Shark Teeth?
As you likely already know by now, children can grow and develop at different rates. Just as some children learn to crawl or walk sooner than others, children lose their baby teeth when their unique mouths are ready. Sometimes the permanent teeth jump the gun and come out a little early, temporarily giving your child an interesting, shark-like appearance.
What Should I Do?
At first glance, seeing an additional row of teeth can be disconcerting, but you don't need to panic. In many cases, you only need to encourage your child to wiggle their baby teeth more until they come out naturally, hopefully soon afterward. Over time, the permanent teeth may shift into their proper alignment on their own once the baby teeth are out of the way. However, in some cases, additional orthodontic treatment may be necessary to make sure your child has a healthy bite in the future.
If your child is unable to wiggle the obstructing baby teeth loose, then it's time to visit your pediatric dentist. They can determine whether there is a larger problem going on, or they can even remove the baby teeth if necessary.
During this transition between primary and permanent teeth, the most important thing is making sure that their smile stays healthy. In addition to daily brushing and flossing, regular checkups and cleanings with your dentist can keep their smile on track—even if they look like a shark for a brief time.
About Chicago Pediatric Dentistry & Orthodontics
At Chicago Pediatric Dentistry & Orthodontics, we are proud to have three board-certified pediatric dentists on staff. Each brings years of advanced training and experience to every appointment, so you know your child's smile is in caring hands. If your child has "shark teeth," or if you have questions about this, feel free to call and schedule an appointment with one of our providers.