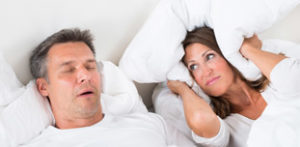 More than 18 million adults in the United States suffer from sleep apnea, but many are completely unaware that they even have this disorder. Mild cases of apnea can lead to poor quality sleep and irritability, but more severe cases can result in an increased risk of heart disease or stroke. What is sleep apnea and how can an orthodontist help?
Understanding Sleep Apnea‍
There are two types of sleep apnea: central sleep apnea and obstructive sleep apnea. Obstructive sleep apnea is the most common. This disorder is caused by the soft tissue of your mouth or throat relaxing during sleep, which can block your airway for up to 10 seconds.
This interrupts your ability to breathe and leads to a variety of symptoms like headaches in the morning, poor quality sleep, a sore mouth and throat, heavy snoring, and restlessness at night.‍
Traditional Treatments – The Two Most Popular Options‍
Currently, the two most popular treatment methods for sleep apnea are CPAP machines and oral appliances. CPAP (continuous positive airway pressure) machines use a gentle flow of air to keep the airway open and prevent obstructions. However, they are powered by batteries or A/C power, and require you to sleep on your back.
This is why oral appliances have become more popular. A qualified orthodontist like Dr. Benjamin can create a custom oral appliance to treat sleep apnea, and it won't require you to sleep on your back! These appliances look like retainers or mouthguards, and they move your jaw to prevent the sagging of soft tissue and keep your airway open.‍
Can Orthodontics Help With Sleep Apnea In Children? Understanding Your Options‍
Orthodontics can be a powerful tool for treating sleep apnea, especially in children. Children should not snore. If they do, this is a sign that there is a narrow airway between the nose and the trachea.
If this is the case, one option is to remove the tonsils and adenoids to provide better airflow and prevent sleep apnea. However, braces and palate expanders can also help treat this issue. These devices will expand the palate, moving the teeth and the bite, to maximize airflow in children and teens.
Apnea is not typically diagnosed until later in life because these issues often go undetected. Dr. Benjamin is "airway aware", and can help ensure that your child has adequate airflow to prevent sleep apnea.‍
Get Help For Sleep Apnea From A Qualified Orthodontist – Come In Today! ‍
Whether you're an adult interested in options to help treat sleep apnea, or if you suspect that your child may be showing sleep apnea symptoms, Chicago Pediatric Dentistry and Orthodontics has solutions.
We're located near the West Loop and South Loop in Downtown Chicago, and we offer treatment for patients of all ages, from infants to adults. If you're dealing with symptoms of sleep apnea, schedule a consultation now at (312) 766-0995 to take the first step to a solution, or visit our office near Printer's Row at 1136 South Delano Court, #B202, Chicago, IL 60605.